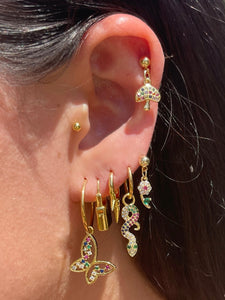 Set #13
This Earring Set is Composed of The Rainbow Butterfly Hoops, The Locked in Earrings, The Trinity Hoops, The Rainbow Snake Hoops, The Daisy Ball Studs, and The Mushroom Ball Studs!
2 of Each Earring Shown in the First Image! ( 1 Pair of Each! )
Segment Hoops are 100% STAINLESS STEEL! SEGMENT HOOPS Seamlessly Close! 16 (1.2MM) GAUGE HOOPS! Locked in Earrings and Trinity Hoops are 100% STERLING SILVER! Standard Ball Studs 100% STAINLESS STEEL. 20 Gauge Studs (0.8mm).
Charms are 18K GOLD PLATED BRASS!
The Rainbow Butterfly and Rainbow Snake Hoops a Come on 16MM (2 Hoops, 1 Pair) and 10MM Hoops! (2 Hoops, 1 Pair )
Daisy Flower and Mushroom Ball Studs are 4MM Studs. Ear Stud Comes with Butterfly Backings to Secure in Place! ( 4 Studs, 2 pairs )
Tragus Piercing NOT included!